Green and Black Vinyl Coated Chicken Wire Used for Gardens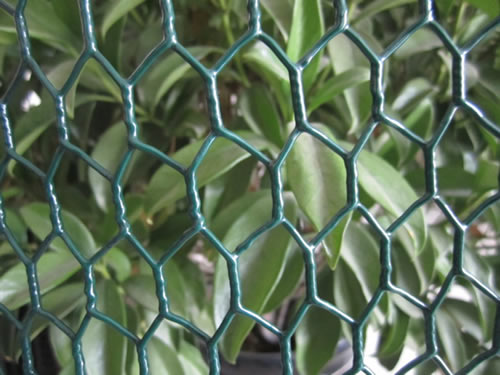 Chicken Wire Coated with Green Powders, for Garden Fencing

Green Vinyl Coated Hexagonal Hole Chicken Netting and Poultry Fencing

Black Vinyl/Plastic Coated Mild Steel Chicken Wire, Suitable for Rabbit Netting

Twisting Patterns Applied
Vinyl coated chicken wire is made from galvanized wire and coated with vinyl material.The Pattern of Waving: Straight twist, reverse twist, double-direction twist.
Characteristic: vinyl coated chicken netting is made up of tightly twisted hexagonal mesh by using the perfect quality iron wire. This kind of wire has a firm structure and a flat surface and with such properties as corrosion resistance, aging resistance, sunshine resistance and weather resistance. It is usually in green and black color thus presenting a beautiful appearance. Vinyl coated chicken netting has longer serves life than heavily Galvanized wire.
Usage: It is widely used for breeding chicken, duck, goose, rabbit, and also act as fencing in zoo, machinery equipment's protection, speedway's fencing, stadium to purse net, the virescence belt protection mesh on the road. This kind of chicken wire is perfect for the construction of a smaller or larger zoo. It is also called rabbit wire because Galvanized and vinyl coated chicken wire also can be used for rabbit fencing to protect your organic garden from rascally rabbits. If we use the mesh to make a box container with filling the container with riprap, it could be used for protecting and holding out the sea wall, hillside, bridge and other related civil engineering. What's more, it is the superior material for flood control and fighting a flood.
Note: The thickness of PVC Coating is usually 0.2-0.4mm, with arranged as per buyers request;
Package: Normally each roll is packed in water proof paper, then in termal foil (Shrink Plastic);
VINYL COATED CHICKEN WIRE
Mesh Size(mm)
Wire Diameter(mm)
Width(m)
13mm
0.6mm-1.0mm
0.5-1.0
20mm
0.6mm-1.0mm
0.5-1.5
25mm
0.7mm-1.3mm
0.5-1.5
30mm
0.85mm-1.3mm
1.0-2.0
40mm
0.85mm-1.4mm
1.0-2.0
50mm
1.0mm-1.4mm
1.0-2.0
75mm
1.2mm-1.6mm
1.5-2.0
Length available in 10m, 25m, or 50m
Special specifications can be produced by the customer's requirements!