Weaving of Stainless Steel Poultry Wire

Twisted Poultry Wire, from SS Wire, Rust-free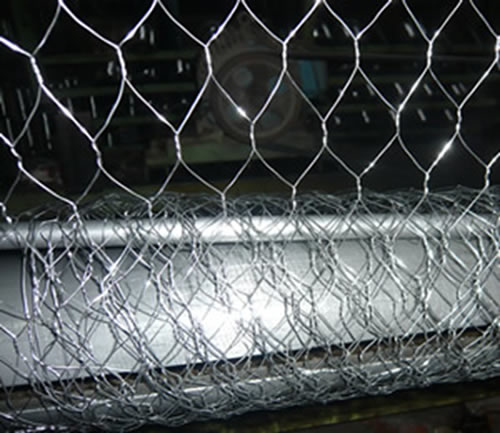 Twisting Illustration of Stainless Steel Poultry Wire on the Weaving Machine
This kind of poultry wire netting is woven by Experienced weavers with super materials on special twisting machines. Stainless steel poultry wire has hexagonal mesh which refers to the six-sided openings. This group is found in furniture, cabinet mesh, gopher control, pet exclusion, mole control, arts and crafts, decorative surface treatments and accents, garden and lighting applications, specialized organic farming, etc. These materials are NOT PLATED, but are from pure stainless steel wire.
Wire diameter: There are various wire gauges for customers to choose, ranging from 19 gauge (1 mm wire) to 22 gauge (0.7 mm).
Weaving pattern: Straight twist, reverse twist, double-direction twist.
Features: As to stainless steel wire material, this type of chicken wire has the superior acid and alkaline resistance and corrosion resistance.
Use: These Stainless steel poultry wire are used for architectural, decorative, and protective uses, both indoors and outdoors. Apart from fencing poultry, stainless steel chicken netting is widely used in the fields of agriculture ,construction, horticulture etc. It also can be used as pipe wrapping in petroleum and chemical industries.
Technology: Because popular protection fences are easy to be able to interweave as well as put in. Generally, the types of materials tend to be Stainless steel wire. Here are the particular poultry wire weaving running. The particular manufacturing associated with poultry netting is named weaving. A metal wire, usually gal to lessen rust, is taken alongside any turning long as well as toned blade, hence developing a relatively compressed spiral. The actual spin out of control continues to turn past the edge and gusts of wind it's approach through the previous spin out of control which is already part of the fencing. If the control reaches the particular far end of the fence, the actual spiral will be minimize near the edge.
Common Specification Table for Stainless Steel Poultry Wire:
Size in Inch
Size in Metric Unit
Wire Gauge(BWG)
Technical Note
1/2
1.5cm
22
Max. roll width:2m;
Single or double edge
24
3/4
2cm
20
Max. roll width:2m;
Single, double, or with reinforced edge for customer's choice
22
24
5/8
1.8cm
21
Single or double edge
23
25
1
2.5cm
19
Max. roll width:2m;
Normal and reverse twist
21
23
1.25
3cm
19
Max. roll width:2m;
Normal and reverse twist
21
1.5
4cm
18
Max. roll width:2m
20
22
2
5cm
18
Max. roll width:2m
20
22